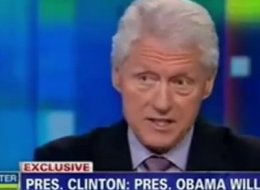 During an appearance on CNN on Thursday night, Bill Clinton weighed in on presumptive Republican presidential candidate Mitt Romney's former private equity firm, Bain Capital, which has come under scrutiny in the campaign.
"I don't think we ought to get into a position where we say this is bad work," Clinton said. "This is good work."
He continued, "I think, however, the real issue ought to be, what has Gov. Romney advocated in the campaign that he will do as president? What has President Obama done and what does he propose to do? How do these things stack up against each other? That's the most relevant thing."
Clinton characterized Romney's career as "sterling."
HuffPost's Ryan Grim and Hunter Stuart
reported
last week:
Romney has been reluctant recently to delve too deeply into his private equity background, as the Obama administration has hammered the GOP candidate for profiting even while workers were left jobless -- in some cases, obligations for such workers' pensions were then met by the government, and the cost foisted on the taxpayer. On Wednesday, Romney declined twice to say whether he welcomed a full discussion of the nature of private equity. Instead, he accused President Obama of not understanding how private enterprise works. "Having been in the private sector for twenty-five years gives me a perspective on how jobs are created – that someone who's never spent a day in the private sector, like President Obama, simply doesn't understand," Romney told Time magazine.
(Scroll down for Tony Soprano's explanation of Bain Capital.)
Newark, N.J. Mayor Cory Booker (D) recently raised eyebrows after he walked back
remarks
calling the Obama campaign's attack on Romney's recored at Bain "nauseating." In the aftermath, he signaled a
different stance
, saying he viewed the approach as "reasonable."
WATCH: Tony Soprano Explains Bain