Stay classy, Mitt Romney.
According to reports from
journalists on the scene
, the GOP presidential candidate's campaign bus showed up at the location of President Barack Obama's scheduled campaign speech in Cleveland, Ohio, and proceeded to taunt his supporters.
The bus reportedly circled and honked at the crowd waiting for Obama. The crowd, in turn, jeered back.
Some tweets from the scene:
@ZekeJMiller

Zeke Miller
The Romney bus is now circling the event space and honking. Obama supporters in line jeer.
@markknoller

Mark Knoller
Romney Campaign bus - emblazoned with Romney Campaign logo - is driving around Pres Obama's speech site honking its horn.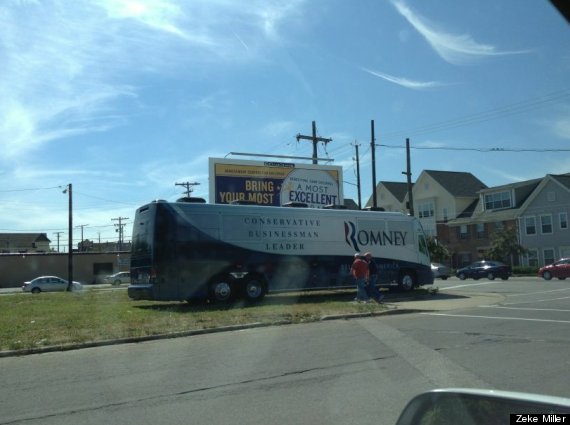 Obama spokeswoman Lis Smith was not impressed:
@Lis_Smith

Lis Smith
@Lis_Smith

Lis Smith
If campaigns are a reflection of their candidates, what do the Romney campaign's antics say about
@MittRomney
?
#notaleader
The former governor of Massachusetts is also giving a speech on the economy in the battleground state.